I've had several candidates for a book cover art collage, but since this one has already come up in conversation, let's start with Jane Eyre!
(Sources: Publishers' websites, Google, Pinterest.)
Of course, there are plenty of covers giving us some variant or other of the Victorian governess (Penguin seems to be particularly set on that motif):
Somehow, Penguin even manages to use one of the few portraits of Charlotte Brontë in this manner:
But of course, there are about just as many covers going for the romantic or gothic heroine look, complete with that detestable pseudo-historical "part of a woman's torso" variant (contrary to what other covers in this group would have you believe, however, Jane did not just about manage to escape from Dracula's castle!)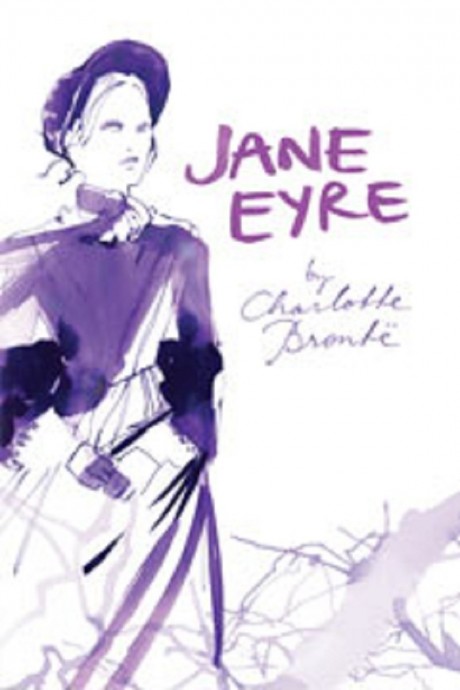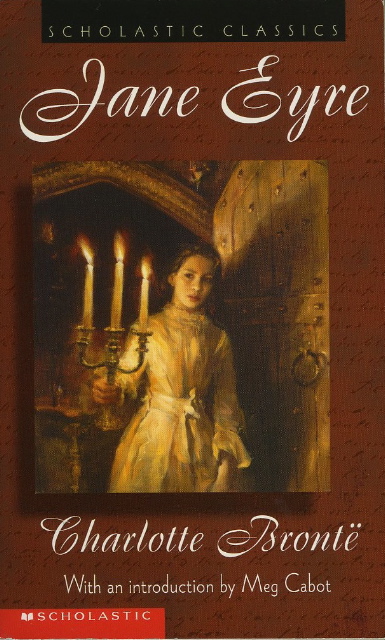 And of course, it hasn't escaped the cover artists' notice, either, that this is a gothic romance -- more cheese with some of these, anybody? Also, refer to the above re: Dracula's castle ... (however much the penultimate one seems to be suggesting Rochester is actually a vampire, and the one before that similarly looks like the man isn't subject to the laws of gravity ...)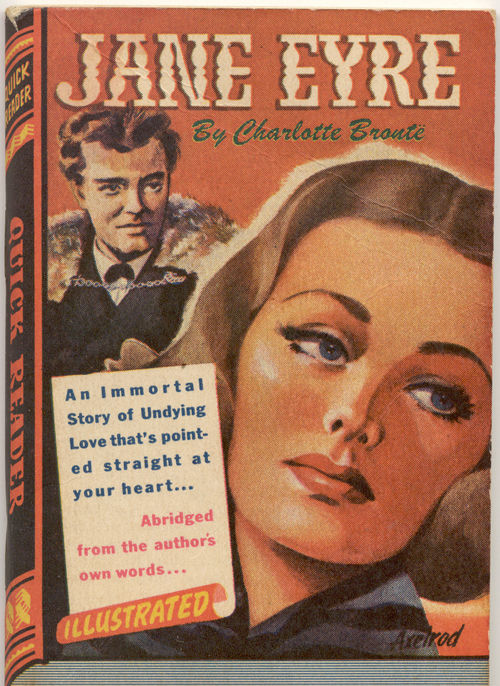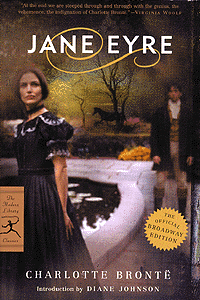 Then there are covers that highlight scenes or motifs from the book, in varying degrees of abstraction or, as the case may be, graphic detail ...
... whereas this one merely seems to be concerned with the fact that this is a story set vaguely in the past ... (but who cares about when precisely, or who's in it, or what happens in it?) ...
... or that it takes place in a vaguely rural or gothic setting ...
... and not everyone gets the author right, either.
Since we're talking "romance," flowers can't be left out, either, of course (though I could serioiusly do without the pseudo-Twilight variant!)
Of course there are also a bunch of abstract or book-unrelated publisher series covers ...
... and some that are exercises in (mostly) abstract art.
These seem to have Jane mixed up with Manon Lescaut ...
... these are "Jane, the plucky 1950s incarnation" ...
... and similarly these, though showing Jane as a governess, are about 100 miles off the mark in so many ways.
This should rather be titled, "The Rochesters -- a (mostly) Happy Family" ...
... this one is sort of "Jane and Rochester -- 30 Years Later" ...
... these somehow seem to have missed the fact that the novel is set in the 19th, not the early decades of the 20th century ...
... this is obviously "Jane Eyre, the Brothers Grimm version" (poisoned apples optional)
... and lastly, um, there are these (and no, they're not graphic novel covers).