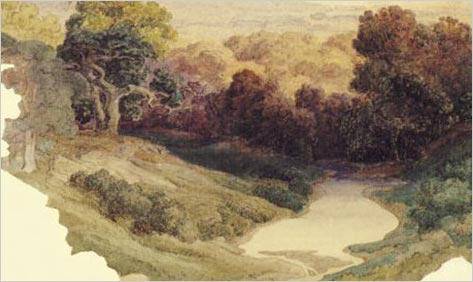 Editors' foreword:
"It's the simple magic of a calendar: when January 1 rolls around, anticipation is the mood of the moment. So, as we close out 2013 (with some looking back at our favorite reading of the past twelve months), we wanted to cast an eye forward as well. Here are twelve of the books we can't wait to read -- and talk about -- coming in the first half of 2014."
The books: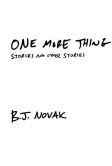 One More Thing: Stories and Other Stories (January 4)
By B. J. Novak

If you know his work as a writer for and performer on the long-running series The Office, you'll probably be unsurprised that these hard-to-pin-down short stories crackle with intelligence and a self-puncturing wit. You may not be prepared for how emotionally wrenching they are.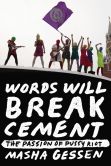 Words Will Break Cement: The Passion of Pussy Riot (January 8)
By Masha Gessen

There's no better writer than the author of the revelatory The Man Without a Face: The Unlikely Rise of Vladimir Putin to chronicle the emergence of the Russian strongman's most successful -- and globally galvanizing -- adversaries. With all eyes on their recent release from prison (and the Sochii Olympics around the corner) this account of dissent and its consequences couldn't be more timely.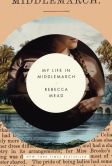 My Life in Middlemarch (January 28)
By Rebecca Mead

What comes after Austen on your classics reading list? Virginia Woolf famously called George Eliot's great epic of the Victorian middle class "one of the few English novels written for grown-up people." Revisiting the book that had been central to her reading life, The New Yorker's Rebecca Mead pursues its themes through a fresh look at the life of its celebrated author, and her own.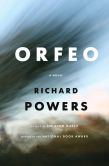 Orfeo (January 20)
By Richard Powers

The National Book Award–winning author of The Echo Maker, The Gold Bug Variations, and Galatea 2.2 draws upon his early musical training in this story of an avant-garde composer whose work brings him under the gaze of the national security establishment. As ever, Powers provides intellectual provocation and emotional depth in one bravura performance.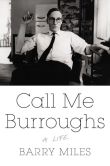 Call Me Burroughs: A Life (January 28)
By Barry Miles

Another strange father of the American midcentury. Unclassifiable, self-mythologizing, unstoppably productive, morally ambiguous, and perennially outrageous, William S. Burroughs left behind both in his life and writing a countercultural myth of startling longevity. Barry Miles -- whose long acquaintance with Burroughs and the Beats gives him an insider's perspective -- turns in an exhaustively researched account of an artist who left a permanent, still unsettling mark on his era, and ours.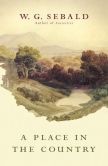 A Place in the Country (February 11)
By W. G. Sebald

English-speaking readers of enthralling masterpieces like Austerlitz and The Rings of Saturn finally have a translation of the late German writer's meditation on six artists and writers -- the last of Sebald's major works to be translated into English. Memoir, history, and criticism combine in Sebald's writing to produce a flow of thought at once enigmatic and transporting.
The Black-Eyed Blonde (March 4)
By Benjamin Black

Writing as Benjamin Black, the novelist John Banville once again follows Dublin pathologist Quirke as he...wait a moment. Scratch that: it's Banville all right, and once again using his nom-de-crime, Benjamin Black. But the hero is Philip Marlowe, Raymond Chandler's immortal Los Angeles private eye. A sample line: "The telephone on my desk had the look of something that knows it's being watched." This is going to be good.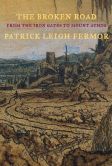 The Broken Road: From the Iron Gates to Mount Athos (March 4)
By Patrick Leigh Fermor

Another long-awaited volume: in 1933, at the age of eighteen, Patrick Leigh "Paddy" Fermor set out to walk south across Europe, with Constantinople his destination. Fermor set out his account of that youthful trip in a A Time of Gifts and continued in Between the Woods and the Water, both of which became instant classics of the genre. But he died before work on the planned third book in the sequence was completed. Now, thanks to editors Artemis Cooper and Colin Thurbon, readers can follow the conclusion of his journey, through Bulgaria and Romania to the coast of the Black Sea.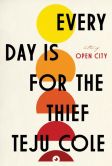 Every Day Is for the Thief (March 25)
By Teju Cole

His prizewinning debut novel, Open City, followed a young Nigerian on a walk through the fascinating and perplexing streets of twenty-first-century Manhattan. With Every Day Is for the Thief, Teju Cole turns the tables, sending a Nigerian writer who has been living in America back to Lagos, for a similar immersion in the world at street level. Inventive, rueful, witty, open-eyed, and fundamentally curious, Cole is a perfect guide to the human heart, no matter where it's taken up residence.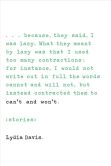 Can't and Won't: Stories (April 8)
By Lydia Davis

There are a few unchallenged masters of short fiction at work in English, and by almost any estimation Lydia Davis, whose brief works can approach the spare, sidelong illuminations of poetry, is one of them. 2009 saw the publication of a monumental collection of her past work, but never mind that -- this new book will show us something far more important: where she's going.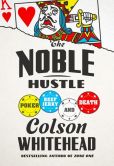 The Noble Hustle (May 6)
By Colson Whitehead

The author of The Intuitionist and Zone One was staked $10,000 by an online magazine to go to Las Vegas and play in the World Series of Poker. The catch -- he'd never played in a tournament before. How much you want to bet Colson Whitehead makes this worth the trip? We're going all-in.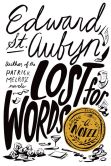 Lost for Words (May 20)
By Edward St. Aubyn

The author of the darkly hilarious and deeply moving Patrick Melrose novels returns. This time, though, he's left his damaged protagonist behind for a wicked send-up of the world of literary awards via the "Elysian Prize for Literature." Revenge, desperate ambition, scandal, and a prize candidate titled The Mulberry Elephant. What more could a reader want?